Scott Collis
Mhd
Canberra, Australia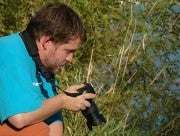 Konto statistik
Aktiva bilder:

78

Försäljningar totalt:

240

Exponering av portfölj:

0.02%

Databas-exponering:

0%

Köp per bild:

3.08

Forum:

46

Upplagt per månad:

0.51 genomsnitt
BIO
I am a student who lives in Canberra Australia. In my spare time I make images, and I sell them here to attempt to partly offset the cost of this expensive habbit/hobby :)

I hope you enjoy looking at my images as much as I enjoyed making them!
Websida:
http://www.potofgrass.com
Gick med:
March 15, 2005
Utrustning:
D70 + Sb-80DX + Kit lens (18-70DX) + 50/1.4 + a whole heap of other fun toys
Favoritämnen:
Landscapes, Macro, anything I can put the lens on really.
Stock rank: