Mark Plumley
Markp
Garfield Heights, United States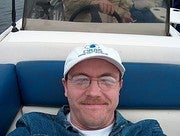 Konto statistik
Aktiva bilder:

101

Försäljningar totalt:

830

Exponering av portfölj:

0.02%

Databas-exponering:

0%

Köp per bild:

8.22

Forum:

36

Upplagt per månad:

0.70 genomsnitt
BIO
Love and Time: The only two things in all of life and all the world that cannot be bought, but spent.
Websida:
http://www.opshots.net
Följ mig:
Gick med:
January 7, 2006
Utrustning:
Canon Digital Rebel XT 350D, Canon 70-200mm L lens, Canon 75-300mm lens, Canon 50mm lens, Canon 18-55mm lens, Canon Battery grip. Light box with lights and filters. HP 850
Favoritämnen:
Landscapes, closeups. Flowers. Aviation related items.
Stock rank: