Mark Andrews
Markandrews
Shanghai, China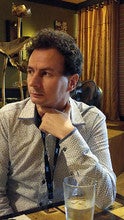 Konto statistik
Aktiva bilder:

260

Försäljningar totalt:

25

Exponering av portfölj:

0.04%

Databas-exponering:

0%

Köp per bild:

0.10

Forum:

0

Upplagt per månad:

1.94 genomsnitt
BIO
I''m a freelance writer/photographer living in Shanghai. My pictures are largely of China, Japan, Laos, Cambodia and the UK. I travel extensively and will have more pictures of other countries soon.
Websida:
http://www.markeaandrews.com
Gick med:
November 22, 2006
Utrustning:
Nikon D300S. Always use either a UV filter or a polarising filter.
Favoritämnen:
Travel related
Stock rank: