Howard Cheek
Marhow
Kempner, United States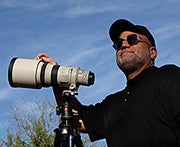 Konto statistik
Aktiva bilder:

203

Försäljningar totalt:

928

Exponering av portfölj:

0.04%

Databas-exponering:

0%

Köp per bild:

4.57

Forum:

0

Upplagt per månad:

1.61 genomsnitt
BIO
Nature Conservancy Grand Prize winner published in Nature's Best Photography, Texas Parks & Wildlife, National Wildlife, Better Holmes & Gardens, L'image, and Birds & Blooms Magazines to name a few. I regularly contribute images to the National Wildlife Federation for use in their publications. I'm active at Nature Photographer's Network.com, and I support the Nature Conservancy's work around the globe.
Websida:
http://HowardCheekPhotography.com
Följ mig:
Gick med:
September 20, 2007
Utrustning:
Canon EOS 1D Mark III camera Canon 5D Mark II camera Canon 300mm f/2.8 lens Canon 24-105mm lens Canon 40mm f/2.8 lens Sigma 150mm lens Sigma macro Ringflash, and Canon 580EX Speedflash. Bogen Manfrotto tripod and head. Assorted filters, teleconvertor's, etc.
Favoritämnen:
Wildlife/Nature