Lesley Wells
Froogle
Hereford, United Kingdom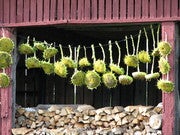 Konto statistik
Aktiva bilder:

5

Försäljningar totalt:

8

Exponering av portfölj:

0%

Databas-exponering:

0%

Köp per bild:

1.60

Forum:

0

Upplagt per månad:

0.04 genomsnitt
BIO
I travel widely and take thousands of photos every year, but I know from my training and a natural 'eye' for a good photo, that only a fraction of photos taken have that certain magic that make them special.
Websida:
http://www.computer-press.net
Gick med:
February 10, 2007
Utrustning:
Canon PowerShot S3 IS current favourite. masses of electronic equipment, scanners and addicted to software such as PhotoShop CS2.
Favoritämnen:
Animals. Abstracts - everydays things taken from an unusual view. Repetitve items such as railings, rows of hay bales etc. I am a museum curator so I able to take photos of artifacts outside of their usual display casings.
Stock rank: