Holger Karius
Flatscreen
Regensburg, Germany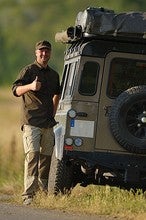 Konto statistik
Aktiva bilder:

1,044

Försäljningar totalt:

3,677

Exponering av portfölj:

0.19%

Databas-exponering:

0.02%

Köp per bild:

3.52

Forum:

1,143

Upplagt per månad:

8.35 genomsnitt
BIO
A big inspiration is my wife Kirsten who also takes a lot of amazing photos.

Also have a look at photo-feeling.com


"Not today nor tomorrow, but within three, four generations, people may be glad that we were concerned about the animals of Africa in our days."

Bernhard Grzimek
Serengeti shall not die, 1959


Designers, please leave a message where I can find your work with my photos. Thanks!
Websida:
http://www.photo-feeling.com
Följ mig:
Gick med:
October 16, 2007
Utrustning:
Nikon bodies, lenses and flashes. Lee filter, Gitzo, Manfrotto mono- and tripods, camera support from ReallyRightStuff and Jobu design.
Favoritämnen:
Wildlife, Nature, Africa, Birds, Landscapes and sometimes abstracts if I have sudden inspirations.
Stock rank:
Jag jobbar endast med Dreamstime.com.