Ilona Vladimirova
Fendyworkmail
Moscow, Russian Federation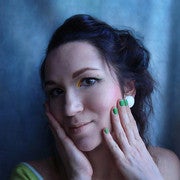 Konto statistik
Aktiva bilder:

95

Försäljningar totalt:

4

Exponering av portfölj:

0.02%

Databas-exponering:

0%

Köp per bild:

0.04

Forum:

0

Upplagt per månad:

4.32 genomsnitt
BIO
Hello! I am a designer by profession since 2009. My industry - this is advertising, image and corporate identity, web design, graphic design. And I really like to create a funny and kind of illustration, like catching commemorative photographs - in short, to create beauty!
Följ mig:
Gick med:
March 17, 2016
Utrustning:
Corel Draw, Adobe, brush, gouache, watercolor.
Favoritämnen:
Vector graphics (characters, cartoon, people), freehand drawing (portraits, caricatures), photography (people, nature) and design.
Stock rank: