William Rackley
Yuzienborn
Charlotte, United States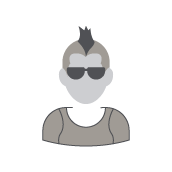 Konto statistik
Aktiva bilder:

1

Försäljningar totalt:

0

Exponering av portfölj:

0%

Databas-exponering:

0%

Forum:

0

Upplagt per månad:

0.01 genomsnitt
BIO
MarriedWhiteMale SEEKING

People to fall in love with his photos. I like Saki, Design, and long walks in the dark. Freaks OK.
Websida:
http://whyareyoulistening.com
Gick med:
July 15, 2008
Utrustning:
Nikon D200 Love my Manfrotto tripod. Usually using the AF-S Nikkor 18-200mm 1:3.5-5.6 G SB-800 flash used wisely.
Favoritämnen:
Wildlife, Women, Children.
Stock rank: