Rebecca Hermanson
Wildhorsedesigns
Baldwin, United States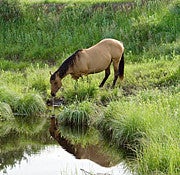 Konto statistik
Aktiva bilder:

478

Försäljningar totalt:

940

Exponering av portfölj:

0.1%

Databas-exponering:

0.01%

Köp per bild:

1.97

Forum:

7

Upplagt per månad:

3.92 genomsnitt
BIO
I live in ND and just started with Dreamstime in January of 08. I have been enjoying my photography for many years and I am currently using a Canon 5D for all my photography. I upload all my images exclusively to Dreamstime so they will not be seen on any other Royalty Free site.
Websida:
http://www.wildhorsedesigns.exposuremanager.com
Följ mig:
Gick med:
December 9, 2007
Utrustning:
Canon EOS 5D
Favoritämnen:
I like to photograph the Quarter Horses that I raise , nature,and landscapes.
Stock rank:
Jag jobbar endast med Dreamstime.com.