Vidura Wickramasinghe
Vidurawicks
Colma, United States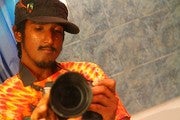 Konto statistik
Aktiva bilder:

3

Försäljningar totalt:

7

Exponering av portfölj:

0%

Databas-exponering:

0%

Köp per bild:

2.33

Forum:

0

Upplagt per månad:

0.10 genomsnitt
BIO
Emerging artist from Sri Lanka spreading the wonders and beauty of our natural world and inspiring change through art.
Websida:
http://newearthtribes.com
Gick med:
June 12, 2015
Utrustning:
My everyday gear includes a lovely Canon 5dMKII with a Tamron 28-300mm lens and a travel size Manfrotto tripod.
Favoritämnen:
Nature/ Landscapes/ Activism/ Journalism related media/ Permaculture and Farming/ Timelapse shoots.
Stock rank: