Monte Goode
Shttrbugk1000
Loveland, United States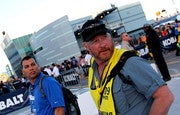 Konto statistik
Aktiva bilder:

36

Försäljningar totalt:

29

Exponering av portfölj:

0.01%

Databas-exponering:

0%

Köp per bild:

0.81

Forum:

0

Upplagt per månad:

0.31 genomsnitt
BIO
An avid race fan and a one time photographer at Pikes Peak Int. Raceway until it's closing in 2005. I am a resident of Colorado but have a lust for travel so many of my photographs are from not only all over the United States but some from my travels abroad.
Följ mig:
Gick med:
May 1, 2008
Utrustning:
Currently using a Canon 50D, several different tamron lenses.
Favoritämnen:
Auto racing and landscapes.