Steven Miller
Millermountainman
Grand Junction, United States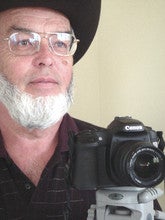 Konto statistik
Aktiva bilder:

453

Försäljningar totalt:

271

Exponering av portfölj:

0.08%

Databas-exponering:

0.01%

Köp per bild:

0.60

Forum:

0

Upplagt per månad:

4.53 genomsnitt
BIO
I have been involved in photography for 40 years and still enjoy it as much as the day I started.
Websida:
http://www.redrockman.com
Följ mig:
Gick med:
October 15, 2009
Utrustning:
Canon 50D and Mamiya RB67
Favoritämnen:
Mountain and Southwestern landscapes. Also enjoy close up photos of a large variety of subjects and objects.