Willard Killough Iii
Killoughwillard
Carolina Beach, United States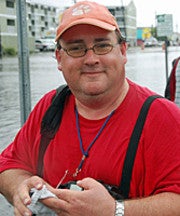 Konto statistik
Aktiva bilder:

2

Försäljningar totalt:

0

Exponering av portfölj:

0%

Databas-exponering:

0%

Forum:

0

Upplagt per månad:

0.04 genomsnitt
BIO
Have worked in the news business since 2001 and snapped more photos than I count ranging from events and advertising to hurricanes, house fires and crime.
Websida:
http://www.killoughphotography.com
Gick med:
January 24, 2014
Utrustning:
Pentax K5-II, Pentax istd, iPhone and various lens, flash, ring light and other related equipment.
Favoritämnen:
Nature, news and editorial.