Ken Cole
Kcphotos
Burtonsville, United States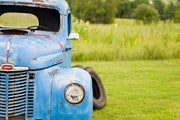 Konto statistik
Aktiva bilder:

1,682

Försäljningar totalt:

18,875

Exponering av portfölj:

0.3%

Databas-exponering:

0.03%

Köp per bild:

11.22

Forum:

226

Upplagt per månad:

11.29 genomsnitt
BIO
Digital photography has opened a whole new world for me. It has freed me from restrictions to experimenting risk-free with new and different compositions. It also has helped me to have a completely new appreciation of the world all around me. The fact that anyone would be interested in viewing and using any of my photos is still amazing and exciting to me. I hope you enjoy my photos!
Websida:
http://kcolephotos.com
Gick med:
October 23, 2005
Utrustning:
Nikon D300, D70s, Nikon 70-200mm f2.8VR, Nikon 105mm f2.8VR, Nikon 24-70mm f2.8
Favoritämnen:
Landscapes, outdoor natural scenery, still life, historic sites,
Stock rank:
Jag jobbar endast med Dreamstime.com.