Joshua Blackwood
Joshuab
Lagrange, United States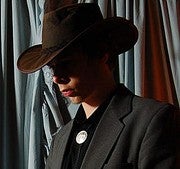 Konto statistik
Aktiva bilder:

10

Försäljningar totalt:

98

Exponering av portfölj:

0%

Databas-exponering:

0%

Köp per bild:

9.80

Forum:

2

Upplagt per månad:

0.09 genomsnitt
BIO
I'm always learning. I love the art of it, the sharing of perspectives.

Please leave a comment if you download one of my photos, let me know how you'll use it!
Websida:
http://joshuablackwood.com/
Följ mig:
Gick med:
April 7, 2008
Utrustning:
Nikon D40 with Nikkor 18-55mm kit lens and Nikkor 55-200mm VR.
Favoritämnen:
Whatever strikes my fancy.
Stock rank: