Henrik Stovring
Hstovring
Aarhus, Denmark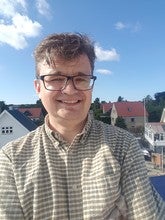 Konto statistik
Aktiva bilder:

1,016

Försäljningar totalt:

268

Exponering av portfölj:

0.17%

Databas-exponering:

0.02%

Köp per bild:

0.26

Forum:

16

Upplagt per månad:

15.16 genomsnitt
BIO
Based in Aarhus, Denmark, I love to take pictures of this beautiful Scandinavian city and its surroundings, in particular its harbor, parks and churches. These pictures are supplemented with those taken on travels in Europe and the US, where Chicago has a special place in my heart, as I am an alumni of the University of Chicago.
Websida:
http://sites.google.com/site/hstovring/
Följ mig:
Gick med:
May 3, 2012
Utrustning:
Nikon D7100 with 35 mm + 18-200mm (Jan 2014 - ) Nikon D5100 with 18-55mm + 18-200mm (July 2012 - December 2013) Nikon D40 with 18-55mm + 18-200mm (April 2007 - July 2012).
Favoritämnen:
Architecture, nature, quiet places, textures, colors
Stock rank:
Jag jobbar endast med Dreamstime.com.