Nick Saum
Geezerair
Deland, United States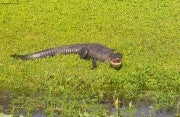 Konto statistik
Aktiva bilder:

36

Försäljningar totalt:

111

Exponering av portfölj:

0.01%

Databas-exponering:

0%

Köp per bild:

3.08

Forum:

0

Upplagt per månad:

0.26 genomsnitt
BIO
I go for striking statements such as the pathos of falling-down barns and houses, the patterns of birds in flight and on the water, and unusual sights from the air.
Websida:
http://www.geezerair.com
Gick med:
October 21, 2005
Utrustning:
Kodak DCS proN Nikon N90S
Favoritämnen:
aerial photos of terrain, geology, old barns and buildings, birds and wildlife. Ground shots of wild life and scenery.
Stock rank: