Bobby Flowers
Dnadigital
San Diego, United States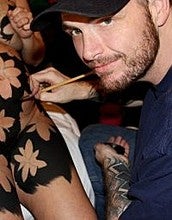 Konto statistik
Aktiva bilder:

1,177

Försäljningar totalt:

9,716

Exponering av portfölj:

0.23%

Databas-exponering:

0.02%

Köp per bild:

8.25

Forum:

106

Upplagt per månad:

7.95 genomsnitt
BIO
"Leaving something to the imagination...I once read that the difference between porn and art is
the lighting. I disagree. Good erotic art or photography comes in many forms, from gestures,
facial expressions, or the exposure (or lack of) the human form in an effort to 'stimulate' and/or
'arouse'. The universal truth, however, is that we are all stimulated by differences. And, it is those
differences I find truly fascinating; erotic or not..."
Gick med:
June 1, 2005
Utrustning:
Canon Rebel, my Quick Wit and Ability to Talk Men and Women out of their Clothes... :)
Favoritämnen:
EVERYTHING, My Gallery isn't just nudes and semi nudes. :) There is something for everyone.
Stock rank:
Veckans fotograf mellan September 5, 2005 och September 12, 2005