Michael Ludwig
Diver721
Margate, United States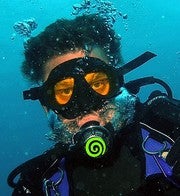 Konto statistik
Aktiva bilder:

1,935

Försäljningar totalt:

3,317

Exponering av portfölj:

0.37%

Databas-exponering:

0.04%

Köp per bild:

1.71

Forum:

143

Upplagt per månad:

16.97 genomsnitt
BIO
Click the "Show All" button below to see my personal collections My Personal Collections: 1. Scuba Divers 2. Artificial Reefs 3. Brain Coral 4. Flamingo Tongue 5. Coral Faces I live in Sunny South Florida on the east coast right around the Ft. Lauderdale area. It's here where you can dive practically all year long. One of my passion in photography is taking pictures underwater. It is so beautiful below the surface and it is full of exciting colorful coral and ordin ... mer
Click the "Show All" button below to see my personal collections

My Personal Collections:

1. Scuba Divers
2. Artificial Reefs
3. Brain Coral
4. Flamingo Tongue
5. Coral Faces


I live in Sunny South Florida on the east coast right around the Ft. Lauderdale area. It's here where you can dive practically all year long. One of my passion in photography is taking pictures underwater. It is so beautiful below the surface and it is full of exciting colorful coral and ordinary to exotic marine life. I have to admit, I don't dive unless I take my camera with me or if it's mini-lobster season then it is my lobster snare. Have to get some bug's. I'm happy to say... I dive almost every weekend, weather permitting of course. As I always say...Lets go diving!

I would very much appreciate if you would email me to let me know where my images are being used. Please leave a comment on one of my images just so I know.
Thanks and Happy diving.
göm
Websida:
http://www.mydivinglog.com
Följ mig:
Gick med:
July 5, 2008
Utrustning:
Canon 60D with EF-S 18-135mm IS lens and a EF 70-300mm f/4-5.6 IS USM lens. Canon EOS Rebel XSI with EF-S/18-55mm IS lens and a EF 75-300mm III USM Lens. Canon Rebel EOS XT with EF-S 18-55mm lens a lot of filters. Olympus PT-030 Underwater housing and a Olympus SP-350, 8.0 Megapixel digital camera with a Inon D-2000 Strobe Type 3 with a LED focus light.
Favoritämnen:
Coral reefs and marine creatures that swim there. I also like taking pictures of isolated items, city buildings, skylines, night shots and fountains.
Stock rank:
Jag jobbar endast med Dreamstime.com.