David Webb
Davewebbphoto
Vancouver, Canada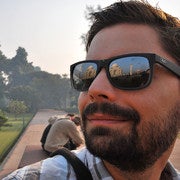 Konto statistik
Aktiva bilder:

293

Försäljningar totalt:

661

Exponering av portfölj:

0.05%

Databas-exponering:

0.01%

Köp per bild:

2.26

Forum:

9

Upplagt per månad:

2.29 genomsnitt
BIO
David Webb is a travel writer and adventure photographer based in Vancouver, BC, Canada. His work appears in Explore, British Columbia Magazine, acrossandabroad.com, Destination Canada and more.
Websida:
http://theworldwidewebb.ca
Följ mig:
Gick med:
April 17, 2007
Utrustning:
DSLR
Favoritämnen:
Outdoor sports, fishing, travel, tourism, adventure.
Stock rank:
Jag jobbar endast med Dreamstime.com.