Iulia Ioana Huiduc
Chihae
Bucharest, Romania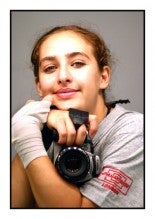 Konto statistik
Aktiva bilder:

18

Försäljningar totalt:

212

Exponering av portfölj:

0%

Databas-exponering:

0%

Köp per bild:

11.78

Forum:

0

Upplagt per månad:

0.11 genomsnitt
BIO
"The five senses are the ministers of the soul."
"Study the science of art and the art of science."
"Everything is connected to everything else."
"Life must be lived as play."/"Life is like a butterfly, whatever it is."
...
Websida:
http://www.chihae.deviantart.com
Gick med:
March 31, 2004
Utrustning:
Canon Eos 300 Canon EOS 400D Canon lens: 50mm 1:1.8; 28mm-90mm 1:4-5.6; 18mm-55mm 1:4-5.6; Polarizing filters; Cokin b&w film R/G/B/Y filters; Cokin color film filters; Scanner HPscanjet 4600
Favoritämnen:
fine art nude, abstract, black&white, art works reproductions, still life, ...
Stock rank: