Christina Arsenis
Caro888
Chandler, United States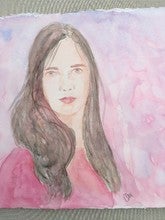 Konto statistik
Aktiva bilder:

52

Försäljningar totalt:

1

Exponering av portfölj:

0.01%

Databas-exponering:

0%

Köp per bild:

0.02

Forum:

0

Upplagt per månad:

1.44 genomsnitt
BIO
I especially love taking dramatic pictures of the sky. I paint with watercolor, and have illustrated a children's book at the age of nine. I'm a traveler, writer, artist, mom and have great respect for nature's limitless beauty.
Websida:
http://christina-arsenis.artistwebsites.com
Gick med:
February 9, 2015
Utrustning:
Windsor-Newton watercolor paints, iPhone 5S, Sony cyber shot.
Favoritämnen:
Portrait painting, abstract painting, landscape photography, writing.