Animesh Ray
Animeshray
Durgapur, India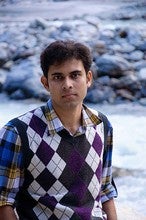 Konto statistik
Aktiva bilder:

6

Försäljningar totalt:

2

Exponering av portfölj:

0%

Databas-exponering:

0%

Köp per bild:

0.33

Forum:

0

Upplagt per månad:

0.07 genomsnitt
BIO
I am a young engineering graduate with a HUGE interest in the art of photography. I love the feeling when somebody gets an idea or somehow connects with a photo clicked by me. That moment is really special and the makes the whole effort worthwhile. Well, been an amateur photographer for long now, and now looking to upgrade myself.
Websida:
http://www.eastgradcreative.com/blog
Gick med:
October 21, 2010
Utrustning:
Nikon D90 with 18-105 mm and 55-200 mm lenses.
Favoritämnen:
Historical Monuments, Seas, Mountains, Buildings, Portraits